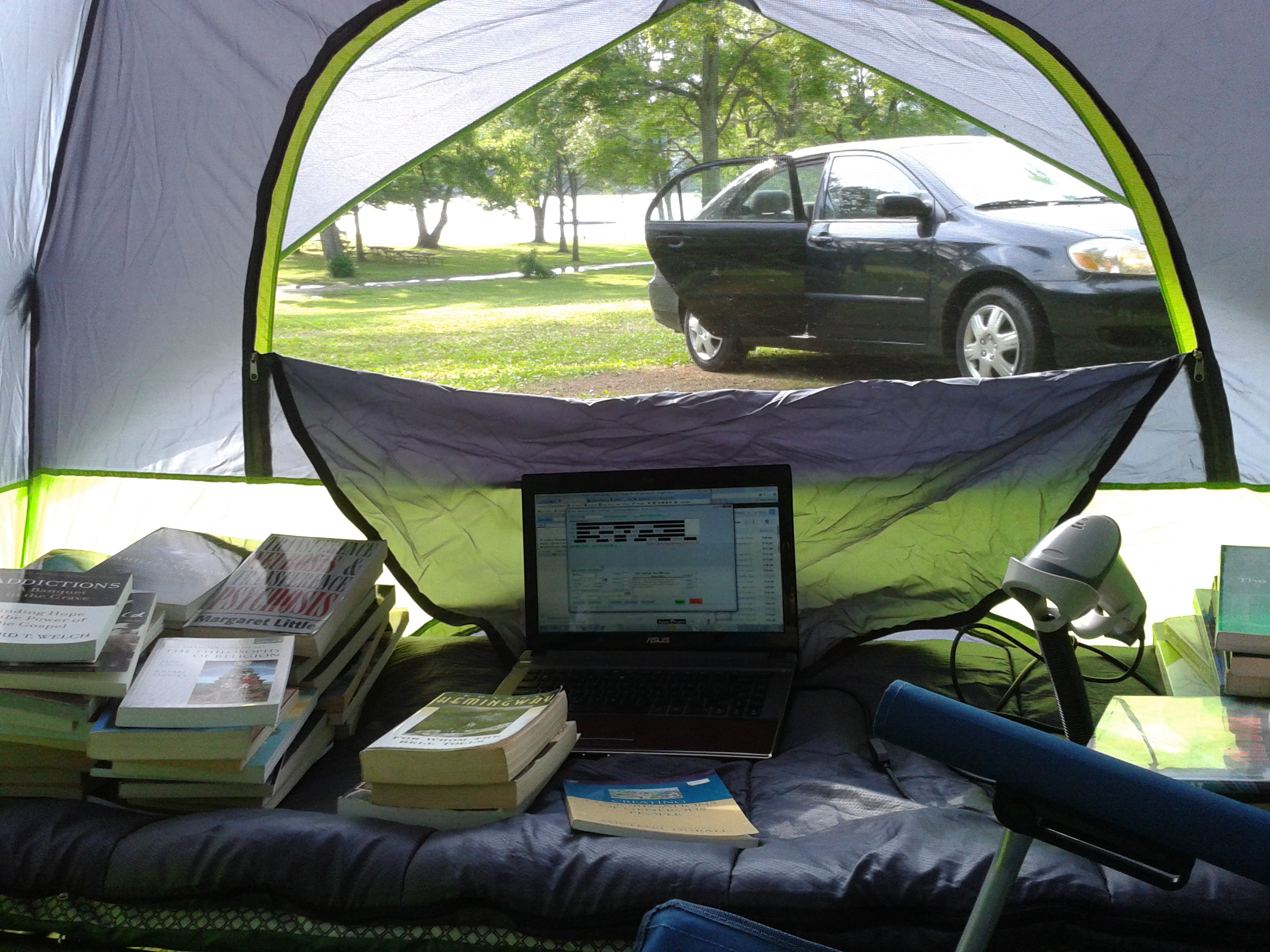 In a previous blog post, I mentioned that I took a road trip to New York and went to two book sales.  The first one was in Greenwich, Connecticut and the second was in Poughkeepsie, NY.  For the New York sale, I decided to prepare an FBA shipment while camping in a tent.
After the book sale, I headed to the Sylvan Lake Beach Park in upstate New York.  I listed all the books in the tent using a barcode scanner and Excel on my laptop.  After I listed the books, I put them into boxes.  No power or internet connection required for this.  I just had to make sure my laptop was fully charged.  This took around 3 hours.
The next day, I went to Starbucks with my laptop and uploaded the ISBN numbers into Amazon's Bulk Inventory Loader and used the FBA Labeling Service so I didn't have to go back and label the books.  Once the items were uploaded, I converted them to FBA and printed the shipping labels and packing slips on a small printer.  I felt a bit awkward using a printer at Starbucks, but no one seemed to notice or care.
Finally, I went back to the car and put the packing slips in the boxes, taped the boxes, and put the shipping labels on the boxes.  Then headed to the UPS store.
Here are the numbers from the sale:
Costs
Books Purchased: 246
Cost of Books: $270.50
UPS Inbound Shipping: $56.64
FBA Labeling Fees: $44.80
Total Costs: $371.94
Sales Results (updated in August 2014)
Books Sold: 205
Percentage of Books Sold: 83%
Sale Revenue (After all Amazon Fees): $1300.08
Profit: $928.14
Random Stats
Highest Priced Book Sold: $99
Second Highest Price Book Sold:  $58.14


If you would like to view the individual statistics of each book sold please click on the spreadsheet below.