I've been selling books on Amazon since 2006, and I've always ignored sourcing at used books stores.  Why?  Not only are the books priced high, but also I've always assumed that the owner would know the exact online value of his/her inventory.  Thus (in my mind) the arbitrage opportunities would be slim.
A few months ago, I started scanning books at a local bookstore.  This store specializes in textbooks so I knew there would be some valuable books.  But how much would I have to pay?  To my surprise, I found a few winners.  This got my wheels turning, and I decided to go "all in."  I scanned almost every single book in the academic/textbook section.
Here are the books.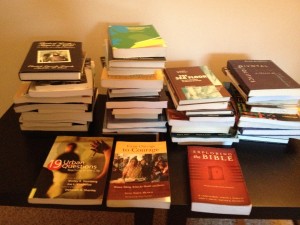 I bought 51 books for $277.55, which comes to an average purchase price of $5.44 a book.  Here are some individual winners:
GNRS Geriatric Nursing Review Syllabus: Sold for $103.99
Handbook of Sexuality-Related Measures: Sold for $88.57
The Sea Floor: Sold for $66.90
After four months, 40 of the books sold.  The gross Amazon sales are $1071.51.   Here is the breakdown of the fees/expenses:
Gross Sales $1071.51
Amazon Fees: ($280.43)
Cost of Books: ($277.55)
UPS Shipping: ($15)
Total Profit: $498.53
Not bad considering I was in there for about 3 hours.  There are some disadvantages though.  I had to scan A LOT of books.  I would say that only 5% were any good.  I couldn't imagine doing this with a camera phone and internet connection.  I used a database scouting tool with a socket scanner.  In addition, I had to pay quite a bit more upfront than I'm used to.  A little over $275 is a lot to pay especially since many of the books had a rank above one million.  I'm used to paying $1 or less per book at library sales and thrift stores.
It was a good day though.  My only wish was that I had given that bookstore a chance much earlier.  The irony is that I used to live about a mile way from that store, and I never went in there.  It was only until I moved 90 minutes away that I discovered it was a gem.
The exact profits were calculated using SourceProfit.