The next book sale adventure led me to Pawley's Island, South Carolina.  On Tuesday, July 9th I looked at the membership site, BookSalesFound.com, to see if there was any sales nearby.  I found an exclusive sale that was not advertised on BookSaleFinder.com which is always a good sign.  Pawley's Island is three hours away, so it was going to take some planning and a commitment.  But since the sale was right off the coast with beaches nearby, I figured worst case scenario I would just spend the day at the beach if it was a dud.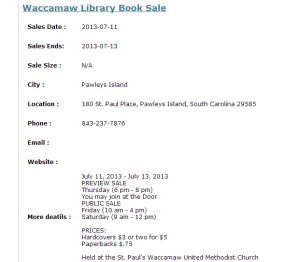 On the way down and up, I listened to podcasts the entire time.  Smart Passive Income by Pat Flynn and Entrepreneur on Fire by John Dumas are my current favorites.  I love listening to entrepreneurial podcasts because they get in me in right mindset.  And I truly believe that having the right mindset is 60% of success.
At 6 pm when the sale started, I did not see one single person there with a scanner.  Very good sign!  The books, however, were pricey at $1.50 for soft covers and $2.50 for hard covers.  I ended up buying around 100 books during the 2-hour preview sale.  Here are some notables:
When the sale was over, I didn't feel like driving home, so I stayed the night in Myrtle Beach, SC and had dinner at Jimmy Buffett's Margaritaville Restaurant.  I went back on Saturday and bought approximately 130 more books at $5 a bag.  Then headed to the beach.
Here are all the books before they were listed on FBA.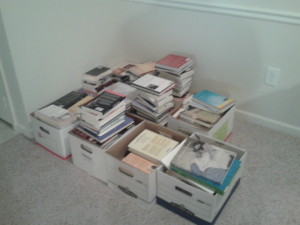 Here are the books packed up into boxes.  (Some of those boxes are from another FBA shipment).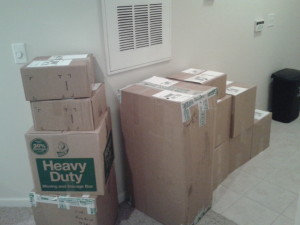 Here are the current numbers from the sale:
Time Invested:
Hours at Sale: 4
Hours spent listing, packing, and preparing for FBA: 2.8
Total hours worked: 6.8
 Purchase Numbers:
Books Purchased: 218
Cost of Books: $199.50
UPS Inbound Shipping: $76.55
FBA Label Service: $45.60
Total Expenses: $321.65
Sales Results  (Updated in August 2014)
Books Sold: 204
Percentage of Books Sold: 94%
Revenue (after all Amazon Fees): $1557.25
Profit: $1235.60
Click on the image below to view the individual transactions.  They are from the payments section of my Amazon Seller Central account