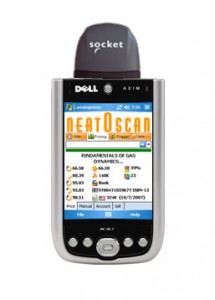 Here's a simple recipe on how to put together a scanner for Amazon FBA.  This scanner is used to find books of value.
Step 1
Socket Scan Card 5E2 or 5EL (They are the exact same model) – Buy this brand new.  It works great, and it is recommended by all the scanner software companies.  It also has a one year factory warranty.  Price: $180 on Amazon
Dell Axim X51 PDA – You should buy this one used.  It will work just as good at a fraction of the price.  Price: $50-$80
Kingston 2 GB SD Card – Don't buy the 4 GB or the SanDisk Brand.  Both of those won't work on the Dell PDA.  Price: $12 for two of them.
Step 2
Contact Neatoscan, ASellerTool, or ScoutPal.  Once you receive your hardware – they can help you set it up via phone call or live online support.  They can also access your PDA and computer remotely.  In other words, they basically have control of your computer and PDA, and can install the software for you.
Price:  $10-$50 per month
Total Price:
Roughly $250 plus a monthly fee.  In my opinion, that's the best price you can get.  Especially since the scanner is new with a one year factory warranty.