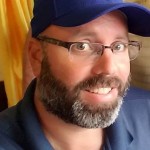 My name is Nathan Holmquist, and I grew up in the small town of Roscoe, IL.  I've pretty much lived in Illinois my whole life until 2009.  I've since lived in Washington State, North Carolina, and Florida.
My first online money-making epiphany occurred in the fall of 2002.  I stumbled upon an online poker site.  I was absolutely fascinated by the idea of making money online.  I had already made up my mind to learn the game, become a pro, and make a ton of money in the process.
Well after about three years of making (and losing) money it started to occur to me that this was a dead end.  In fact, I was most likely addicted to poker.
The year was 2005, and I was looking for another way to make some money.  I had just finished graduate school, and I listed a textbook on Half.com.  To my surprise it sold that night.  I just made an easy $50.  I was hooked again on all the possibilities.
Now, I just needed a way to acquire (lots of) used books.  So, I went to the library and copied down all the ISBN numbers of a few of the used books that they were selling.  I ran home – looked them up on the internet – and ran back to the library.
There was one book that was worth about $8 online, and the library was selling it for 50 cents.  I, of course, bought it and listed it on Half.com.  It sold that night!
I was ecstatic!  I had just discovered a real business on my own.  This was a real tipping point in my life.  Now all I had to do was – go to library sales – buy books cheap – resell them online.
I've since dabbled into blogging about Amazon FBA.  I hope to find new and exciting ways to make money and add value to the world.  I will keep you posted on anything that I find new, interesting, and profitable.