I've talked about the benefits of unadvertised library book sales many times before. Since there is a less likelihood of other sellers present, you have a much better chance of getting all of the valuable books for yourself. There's also another element as well. Most library book sales are a yearly event.  So, if you find a good one, you can return the next year for hopefully similar results. Now you have a reoccurring revenue stream year after year.
For example, in the summer of 2013, I found a really good unpublicized sale. My current profit is $1117 from that single book sale. In 2014, I returned to that exact same sale looking for similar results. As I had hoped, I was the only one there with a scanner.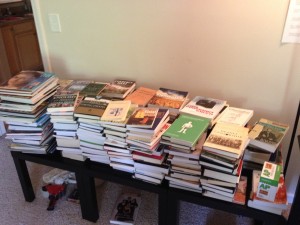 Books were sorted, listed, and shipped to Amazon in 90 minutes using ScanLister with the Amazon Label Service.

Here are the purchase results:
Books Purchased: 257
Cost of Books: $219
UPS Inbound Shipping: $81.53
FBA Label Service: $51.60
Total Costs: $352.13

Here are the sales results: (after 75 days of being live on Amazon)
Books Sold: 151
Percentage of Books Sold: 59%
Total Revenue (after all Amazon fees): $1130.02
Total Profit: $777.89
In conclusion, this sale was not only profitable the first time around but the second time as well.  In a 15 month time period, I was able to make a reoccurring revenue stream of $126.33 per month.  You can find unadvertised book sales on www.booksalesfound.com or simply by calling your local libraries and asking them the date of their next sale.