I've done a lot of blog posts on finding books at bookstores, thrift shops, and library sales.  While these can be great sources, it can be difficult to establish an ongoing relationship with these sources.  You may get a lot of inventory, but you always have to go back for more.
In this post, I'm going to talk about the benefits of establishing relationships with private contacts.  For example, in the last couple of years, I've been contacting people on Craigslist who are selling their own private collection of books.
Here are some benefits.
The valuable books have not been filtered out
Once they know you're a real person who pays with real money, they will most likely do business with you in the future
They will often refer their friends and family to you
Here are some tips that I've learned along the way.
I'm always upfront and tell them that I'm a "book buyer" or that " I buy and sell books".  This almost always leads to more sales or referrals.
After the initial purchase, I ask them if they have anymore books to sell.
I give them a business card that says, "I buy book collections".  Or something to that effect.
I save their email or phone number in my contact list.  Then a few months later, I can follow up with them to see if they have anymore books to sell.
For a real life example, I received this email from a private contact a few weeks ago.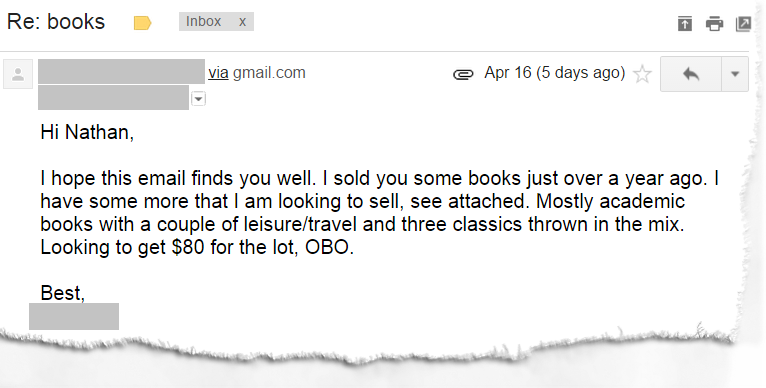 She also included the pictures in the email as well.
After researching two or three of the books on Amazon, I knew this was a no-brainer.
After Amazon fees, I'm expecting a net profit of $400.  Not bad, considering she contacted me.  All I had to do was meet her in public place and pick up the books.