It's been a while since I've done a library book sale experiment.  I've decided to do another one with a focus on the Amazon sales rank.  How long does it take a high-ranking book to sell?  More specifically, how long does it take a book with a sales rank above 1 million to sell?
Last February, I went to a book sale about a half hour from my home.  The sale consisted of two days, Tuesday and Saturday.  On Saturday, the children's books were selling for 20 cents each.  I would say that about half of the books that I purchased were the children's books.  When it was all said and done, I ended up buying 503 books!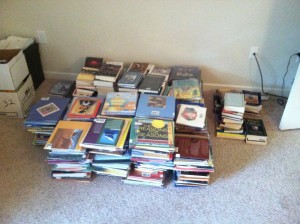 Setting
Place: Library
Date: Tuesday 5-8, Saturday 9:30-2
Price
Tuesday: Hardcover and Softcover Books were $1 each.
Saturday: Children's Books were 5 for a $1
Purchase Stats
Total Books Purchased: 503
Average Merchant Fulfilled Price: $4.04 + shipping
Average Sales Rank 1.7 million*
Books Purchased with a sales rank above one million: 281
*The sales rank was documented at the time of listing the book on Amazon
Investment
Books: $215
UPS Inbound Shipping: $110
FBA Label Fee: $93
UPS Pick Up: $7
Total Costs: $425
Results
Here are the results after 45 days of being live on Amazon:
Books Sold: 95
Books Sold with a sales rank above one million: 23
Total Sales to Date: $711.15
Total Profit to Date: $286.15
Conclusion
So books with a sales ranking above one million definitely sell.  So far, 23 of the 95 that sold had a sales rank above one million.
As always, I will be posting updates on the progress of this book sale.
You can view the individual transactions of the sale below. This time, I've added the Amazon sales rank (at the time of purchase) on the spreadsheet as well.